Department of Drug & Arson Investigation




The main profile of this department is the analytical chemistry of organic compounds, like drugs and hydrocarbons.

The task of the Drug Laboratories is to do the identification, confirmation and quantification of the illicit narcotic drugs in order to give information to the prosecution or intelligence purposes.
In accordance with the Hungarian law, when deciding the length of deprivation of liberty, the judge has to take into consideration whether an offender had a small or large quantity of drugs.

In many cases we also have to compare samples collected on various sites if they are of common origin or not. For this purpose we have to investigate the different impurities in the seized drugs, which derive either from the raw or processing material.
Knowing the impurities is useful to determine the applied synthetic route and whether the samples are from licit or illicit production.

The analytical results of materials seized in Hungary are collected in the central database and trends are evaluated annually. This is the basis of numerous drug reports such as "Chapter 10 - Drug markets" in National Reports for EMCDDA.

---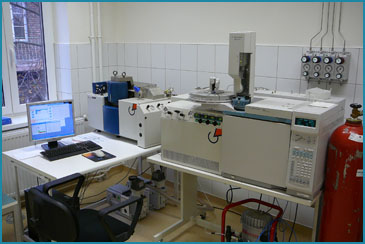 ---
The main task of the Arson Laboratory is to examine residues of flammable liquids and other petroleum distillates in fire debris and in other trace evidences. In addition, the laboratory analyzes unknown substances for identification or comparison.

Metallographic examination of firearms with removed ID number is also one of the tasks of the department.